Power Your Mind with Photoreading -
PhotoReading DVD !
Watch two amazing videos on your computer!
Listen! hear a mind blowing recording on your CD player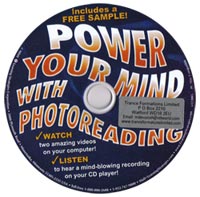 TO OBTAIN YOUR COPY OF THIS DVD PLEASE ENTER YOUR EMAIL ADDRESS BELOW AND CLICK CONTINUE.
If you are not an existing client a £1.50 P&P charge is payable to cover DVD shipping charges.