Soul Transformation CIT & Soul Plan Readings
Soul Transformation Core Issue Therapy™
---
Based around using the 22 Soul Plan Cards, the Soul Transformation Process is an incredible way to not just identify what your core issue is, but also a diagnostic tool to identify the precise intervention.
When I signed up for the Soul Transformation Soul Cards Practitioner Training I had no idea what to expect aside from the fact that we would be using some kind of 'Soul Tarot Cards' and that it was an accurate diagnostic process for truly uncovering core issues.
It sounded similar that what I already do however I could not have predicted what actually happened and the results that were attained.
It is more like a mathematical system which was ABSOLUTELY SPOT ON for every single person in the room even though there are some 22 x 154 variations to choose from. A little like doing the Angel Tarot Card Readings to begin with, yet much more systematic and process based. It was accurate beyond belief.
8 stage Soul Transformation Process
It is an 8 stage Soul Transformation Process and you can do it one intervention at a time, or through a series of longer or extended sessions or over a period of time if there are several issues to work through.
The complete Soul Card Transformation Process is outlined below:
Setting the sacred space.
Soul Card Reading to determine the Separation Pattern.
The Core Issue Diagnostic.
Exploration of the Soul Story.
The Soul Re-Alignment Intervention(s).
The Forgiveness Integration Process.
The Soul Card Future Insights Reading.
The Integration & Grounding Process.
The Interventions available include:
Soul Retrieval
Odic Bonding
Soul Plan Trauma Release
Soul Plan Hologram Reading
Meeting Your Soul Purpose Guide
Cord Balancing & Vow Break
Boundary Tapping and Infinity Rewiring
Archetypes & Shadow Exploration
The Forgiveness Integration Process
Typically in a 60-minute session we would do one Intervention, and in a 90-minute session 2 or 3 interventions would be undertaken.
The sessions can be done by telephone or Skype so are also suitable for those living outside of London and abroad.
The Session options are outlined below.
You do not need to have had a Soul Plan Reading before undertaking this process.
1-Hour Soul Card
Transformation Session
1-Hour Soul Card Transformation Session
90 Minute Soul Card
Transformation Session
90 - Minute Soul Card Transformation Session
10 Soul Card Transformation Sessions
Block Booking of 10 Soul Card Transformation Sessions
Back to top
Testimonials After The Session
"It was very powerful so I'm really speechless and it feels like whatever you need just comes up in the (Soul Plan) cards. The first card about Assimilation and Structure and harmony is really spot on for me, and the polarity of life and death is almost connected to the Archetypes (which later came up as the required Intervention work)."
"I have done similar processes with the Archetypes work so this is not new for me but this process today is really really powerful because it's shifted stuff I wasn't even aware of . . . It's amazing. Thank you so much Marilyn. I would say it's been life changing, and I think I need the rest of the week to process this!!"
"Oh oh, now I'm in a different body, but that's good!" It's like the cape or the dress that I've been wearing feels lighter, and the energy around me has changed in such a short space of time. I can feel it already, I feel lighter because there are aspects of yourself that you know about but you don't know what to do with them, and this process is so powerful. Sometimes you don't know what is sabotaging you. . . this process is crazy. Wow!!!!"
LIFE PURPOSE COACH
Another client was feeling fed up, defeated, struggling physically and lacking energy, feeling frustrated, de-energised, procrastinating, feeling helpless as though at the whim of others, had fallen into victim mode mentality and felt as though they had literally been knocked down.
I like to benchmark my sessions so I asked how they would know that the Soul Transformation Session had been a success regardless of the immediate outside forces. They said: "I will get up. That's how I'll know."
After the Soul Transformation Session the client said:
"When I did the final piece of seeing an image of myself in the future I could see people lining up and following me, people who are inspired by my work, and it went from one to many really quickly.
I had set myself a challenge to say I would get up, and I got up, and stood up, and started pacing. When you did the Forgiveness piece about integrating with those part of myself I felt the weirdest tingling feeling in my root chakra, it was an insane tingling and was totally totally weird, and by the time I went into the upper realm (this is part of the Soul Retrieval Process), I was sat up, bullet straight, and the energy pushed me up and straightened me up, and then as I saw myself in the future I literally felt as though the energy was lifting me up.
When we started I felt as though I was slouched down in the corner, and during that process I felt myself being lifted up. I definitely feel that I've moved 4 or 5 levels up on the energy scale because I was down in the black today before this call.
I feel different in my body already and it feels like a weight has been lifted."
COMPANY CEO
With one client we simply had a 2 minute Facebook Messenger exchange in terms of identifying the core issue and polarity. Their response was:
"OMG!!! That is so spot on it's freaky! No wonder I've not been able to move on with the best will in the world."
RGN NURSE & HOLISTIC PRACTITIONER
To read the full Blog where I also share some insights into how the session is conducted, exactly what we did, how long it took, and the process for determining the core issue and which interventions to use, go to: http://marilyndevonish.com/soul-transformation-therapy-blown-away-lifted-in-just-59-minutes/
The Sessions outlined above were done via Skype and telephone respectively.
A Message from the CIT Creator Blue Marsden
Core Issue Therapy™
A new course came through to me in 2013 which I have taught many times in Japan but never in the UK until October 2015. Last weekend I tried it out with some of our Soul Plan teachers and a few advanced practitioners
(of which Marilyn Devonish was one)
. We had an amazing and transformational few days and I think it will work very well in English too.
Core Issue Therapy promises to prove invaluable for all those looking for a way of identifying current Soul Plan blockages and offering a Soul Plan related system for helping clients move forward post their readings.
Here's some more information about how the Soul Plan CIT has been progressing:
The last two years in Japan has seen many counsellors, therapists and even doctors offering a new modality - Core Issue Therapy also known in Japan as Soul Plan CIT. This unique modality can be offered completely independently of a
Soul Plan Reading
and it does not require information on a persons birth name.
This new channelled therapy system uses a playing card size Soul Plan Tarot deck to help diagnose the polarity (we are all affected by polarity challenges even if not in our chart) and then the specific challenge issue which is blocking a person from more fully connecting with their purpose and Soul Plan potential at any time.
The method then provides up to seven healing interventions to clear blockages which includes a tree of life soul retrieval method, an energy psychology / dynamic energy healing method and Soul Plan Archetype work.
Many widely trained therapists in Japan commented that this modality puts together the essence of their favourite modalities into a very clear and structured package and we always ends with a 'Soul Plan future reading' which points a way forward for the clients post the healing intervention. Besides attaining a new healing modality it will be very beneficial on a personal level - so I hope you can make a future training.
Soul Plan CIT - Tarot and Healing Interventions
The CIT workshop is designed to be both healing on a personal level and also to provide the practitioner with more in-depth tools and a clear protocol on:
Theory of Life Purpose blockages
Introduction to the Soul Plan Tarot and how to work with a chart of common Soul Plan blockages
How to diagnose the root cause and core issue
How to recognise the Soul Energy Archetypes responsible for unconscious patterning within you and your clients
Meeting and freeing the polarity subpersonalities which operate consciously or unconsciously in each individual
How to identify and clear client's life purpose blockages
Connecting with Soul Purpose Angels/Guides
Back to top
Soul Plans
What is a Soul Plan?
The Soul Plan is a system of  deriving what you are here to do on this earth from the Sound Vibration and spelling of your birth name, and has its roots in the ancient Hebrew gematria (words whose letters have numerical values and hidden meanings).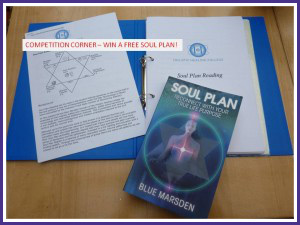 Why Get a Soul Plan Reading?
As well as pretty much telling the story of your life, explaining the challenges you have faced, highlighting your latent skills, gifts, and talents, and revealing exactly what is potentially stopping you from fully reaching your potential and goals, the Soul Plan can also help you to:
See clearly your greatest challenges and how these can be overcome
Uncover your greatest strengths (career, creative, financial and life purpose) and align with your higher soul purpose
Understand your past and reveal your best future direction
Reveal the vibration and personal meaning of your name
Explore your worldly and spiritual talents, challenges and goals, and choose a path and purpose that is more in alignment with you
Who developed the Soul Plan
Originally created by Dr Frank Alper, the Author of Discovering Atlantis, and further developed by Hay House Author Blue Marsden, the Soul Plans has its roots in ancient Hebrew, and the symbolic assignments can be found in ancient texts such as the Sefer Yetzirah and Zohar.
What does a Soul Plan tell you?
The Soul Plan focuses on 7 key areas, namely your:
1. Worldly Challenges – the blocks, barriers and negative patterns that you are here to face and overcome in the first phase of your life.
2. Worldly Talents – those things that come most naturally and easily to you.
3. Worldly Goals – your aspirations and the things you wish to master.
4. Spiritual Challenge – the spiritual lessons and opportunities.
5. Spiritual Talents – the gifts and abilities that you have more immediate access to.
6. Spiritual Goals – your spiritual mission or higher purpose.
7. Soul Destiny – your highest potential and overall purpose.
Accessing the Spiritual can often be based upon successfully working through the Worldly aspects first, which may go some way to explaining why so many people seem to struggle in fully achieving and realising their dreams, goals, and spiritual aspirations.  The more fully you work through the Worldly aspects, challenges, lessons, the more you come into and gain access to your talents, and ultimately gaining greater alignment with your Soul Destiny and purpose.
What have people said about their Soul Plans?
This is just a snippet of the feedback that I've had from clients that I've prepared Soul Plans for most recently:
"Golly! That's pretty amazing!  Must get my wife to look at that."
"Marilyn…so scary and so accurate!!!  Thanks so much for sharing with me..a lot of food for thought…xx"
"You are reading my life from a piece of paper!!"
"I'm pretty much saying yes to everything (all of those limiting beliefs).  When can we clear them?!!!"
It has proven to be uncannily accurate and spot on.
When reading my own Soul Plan there was a sense of validation and relief as I looked back at the challenges that needed to be overcome in order for me to step into and start fully living the next phase of my life.  I could also start to see the point, purpose, and meaning of some of the seemingly random and according to me, 'unnecessary' things that had transpired throughout my childhood, teenage and adult life.
What is involved in doing a Soul Plan Reading?
You simply send me (Marilyn Devonish, see below for
e-mail address
) your full birth name, i.e., as it appears on your birth certificate, and from there I prepare your personalised Soul Plan chart.  This can be cast by hand however I also have a rather fabulous software programme that creates a much neater version of your Soul Plan Chart, and also a summary of each of the 7 key aspects that influence your life.
How long does the Reading take?
A Soul Plan Reading takes approximately 1-hour however I always ask clients to allow 1 hour 15 minutes to give us time to cover the key aspects and also discuss how you can put any steps in place to help overcome challenges or limiting beliefs that might stand in the way of fully activating your talents and achieving your goals.
You will also receive what I call a 'mini prescription' of things and practices to consider as you move forward.
Where are the sessions done?
Your Soul Plan Reading can be done in person or via telephone or Skype.
What is the investment and how do I book a Session?
The Soul Plan Session is £130. Use the button below to make your payment and book your Soul Plan Report and Reading Session and Marilyn will send you an e-mail to set up a date and time. You can also send an e-mail with your preferences to: 
marilyn@tranceformationsTM.com
. Please put 'Soul Plan Reading' in the subject line.
Based on the work of psychologist Carl Jung, and further developed by Carol Pearson, Archetypal Branding gives a deep, and often profound insight into the unseen aspects of your personality which govern your life and behaviour.
With less than 20 Archetypal Branding Practitioners in the UK, this is a unique opportunity to gain access to a breakthrough approach to coaching and organisational planning.
What are the Archetypes?
Twelve main archetypes have been identified, all of which have a strength, and a shadow side.
| | | |
| --- | --- | --- |
| Archetype | Strength | Shadow |
| Innocent | Trust, optimism | Abandonment |
| Orphan | Regain safety | Exploitation |
| Warrior | To win | Weakness |
| Caregiver | To help others | Selfishness |
| Seeker | Search for a better life | Conformity |
| Lover | Bliss | Loss of love |
| Destroyer | Metamorphosis | Annihilation |
| Creator | Identity | Inauthenticity |
| Ruler | Order | Chaos |
| Magician | Transformation | Evil sorcery |
| Sage | Truth | Deception |
| Fool | Enjoyment | Nonaliveness |
How do these Archetypes influence your life?
Although each has it main characteristics, the archetypes also work together in pairs, and each has an opposite. In order to have balance and a sense of wholeness, both pairs need to work together in harmony. If an archetype is out of balance, either too strong, or being repressed or ignored, it can have far reaching affects and repercussions on your life and affect your ability to feel in alignment and free of conflict.
What will I notice when they are in alignment?
You would have a sense of what it would be like if you were really living your life "on purpose". How much more confident, sure and comfortable would you be if you had a clearer idea of your life's path and journey? What value would it add to your life if you had a greater insight and understanding into the aspects of your personality and how they might be working against you?
How do I know if I have an imbalance?
Have you ever felt as though you were 'going through the motions' but had a sense of emptiness inside?
Do you have long sought after material possessions, a nice house, a decent car, a good job for instance, but still feel unfulfilled or dissatisfied?
Have you had a life full of intense experiences, but been unable to learn from them so that you can move on with your life?
Do you ever feel constrained by the situations around you and unable to connect to your true self?
Do you long to find meaning and a purpose to your life?
If you have answered "yes" to any of the above questions, then Archetypal Branding could enable you to discover what has been missing in your life and provide a key for unlocking your potential and identifying where you are on your life journey and path.
So how can I find out which archetypes operate most strongly in my life, and identify those which are not being expressed or are out of balance?
The PMI questionnaire enables you to identify the archetypes which are most active and dominant in your life as well as providing a valuable insight into those which are for some reason not being fully expressed. It also highlights where aspects of your personality may be out of balance, and provides guidelines on what steps you can take to resolve things.
The questionnaire only takes 30 minutes to complete, but provides a wealth of information that you can start to put into practice immediately.

To book your Archetypal Analysis and order your Profile Questionnaire today, please click the PayPal button below;
Once you have completed your questionnaire, simply return it at the address supplied and Marilyn will call you to arrange a time to discuss the results. The Archetypal Profile Coaching Session can be done by telephone or Skype if it's not convenient for you to travel or you are living outside of the UK.
The Archetypal Profile Coaching Package which includes your Archetypal Profile psychometric Questionnaire, the 50-Page Archetype Guide Book, and follow up one-to-one Analysis Session with Marilyn Devonish is £280 + postage.
What does the package include?
Once I have received the completed questionnaire I will complete the profiling process. Your PMAI Archetypal package includes:
A 1.5 hour Archetypal Analysis Session which can be done via phone or Skype.
A PMAI Scoring Profile
The PMAI Introduction to Archetypes book, which is a 50 page book that gives more detail and background regarding the Archetypes and their respective traits and characteristics
Archetypes provide the deep structure for human experience, motivation and meaning.
Marilyn is qualified to use the Pearson-Marr Type indicator (PMAI) in order to:
Understand your deepest motivations in life
Communicate at a deeper level and understand the motivations of others
Create goals that support your full potential
Developyour leadership capacity
The questionnaire takes approximately 30 minutes to complete and provides a powerful psychological type profile of the different and sometimes contradictory themes that shape their lives.
The Archetype Coaching Sessions can be conducted via phone or Skype.
The PMAI Questionnaire can also be completed by post and costs £57 including P&P (this includes the Archetypal Profile psychometric Questionnaire and 50-Page Understanding The Archetypes Guide Book).
Order your copy today using the PayPal button below!
For further information about booking your Archetypal Profile Analysis contact:
Marilyn Devonish
TranceFormations™
Tel: +44 1923 337282
E-mail:
marilyn@tranceformationsTM.com